What is Step Dimming?
Posted By
12 Oct
0 Comment(s)
187 View(s)
What is Step Dimming?
To make a lighting dimming, you need buy a dimmer and a dimming LED lighting(with a dimming LED driver).
When you dim a light, you save up to 80 percent in energy and up to about 20 percent on your energy bill.

The LED lighting can last longer when you use a dimmer to keep them lit. If you dim the lights by at least 25%, you will save approximately 1/5 of the electricity required. The softer the lamp fade, the longer the lamp lasts.

These days with the more modern dimmer light switches, you can control the amount of lighting with a remote control. Touch dimmers give you a change of lighting just by pressing a button. You can set the mood for any room that has the adjusted dimmer light switched lighting. You can use dimmer switch lighting in living rooms, bedrooms, bathrooms and breakfast nooks.

In conventional or traditional dimming, you will require a separate dimmer switch to be able to control the brightness of the LED lamp.

How can you get dimmable lights without changing your switches?

Finding the right dimmer for LED products is not always easy and can often involve high costs and consultation. Producers recognises this trend and offers you an optimal and extremely simple solution.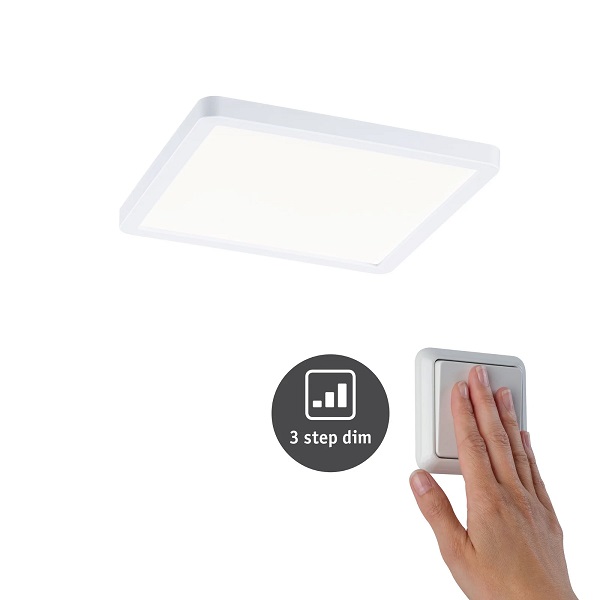 Did you know that you can dim a light without a dimmer? That there are lights which make it so that you don't have to deal with complicated installations to get the right light? Lights which are convenient and simple to use?
A light with a built-in 3-step dimmer makes it super easy to dim the light to any intensity. You don't have to install anything or think about dimmer compatibility - all you have to do is to click the light switch one, two, or three times!

Step-dimming lights can be dimmed using your existing switches, regardless of whether they are wall, cable, housing or step-switches. The dimmer technology is outsourced to the lighting components and saves you the tedious search for the right dimmer.

By pressing the switch several times (on/off), the light source can be altered to your desired brightness level. There are 3 different brightness levels available; 100%, 50% and 25%.

If the light is switched off and on again within 3 seconds, it automatically switches to the next dimming level. If the light remains switched off for more than 3 seconds, 100% brightness will automatically available the next time you switch it on, to save you changing it the next day.
Dimming LEDs offer the following advantages:

Saving energy, because less energy is used for reduced output levels.

Extended life; the electronic components run cooler. This not only extends the life of LEDs but also increases the life of the phosphor coating that is used to produce white light.
A dimmer is no longer necessary - you save in costs and consultation using your current light switch.
Existing and already installed lights can be changed to LED step-dimming lamps by simply swapping them, with no tedious installation of a dimmer necessary.

Dimming is easily possible and can be implemented without significant technical skills.

Table, floor or wall lights can be made dimmable easily and without great technical skills with our step-dimming lightbulbs. As long as they have an integrated switch, this is possible, regardless of whether they are cable, housing or step switches.