Wall Lights
Wall lights come in various styles and designs, serving both functional and decorative purposes.
Wall lamps are usually used as decorative lighting in addition to ceiling lights, but you can use wall lights for basic lighting as an alternative to a ceiling lights. All living room areas can be bathed in light by installing a sufficient number of wall luminaires. As wall lights are installed at eye level, the design of wall lights is important and it is essential to choose glare-free lamps.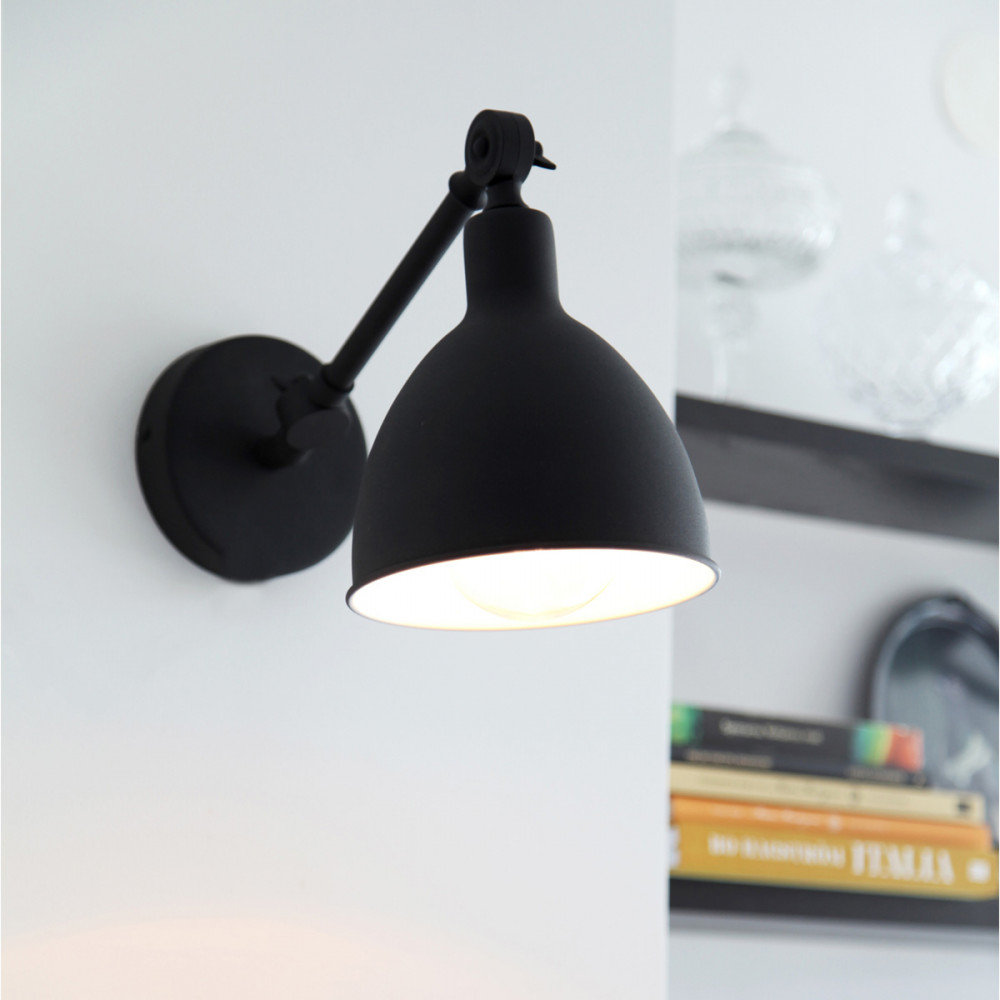 Here are some common types of wall lights
Up-Light Sconces
These fixtures direct light upward, creating a soft, indirect glow. They are often used for ambient lighting.
Down-Light Sconces
These fixtures cast light downward, providing task lighting or accentuating specific areas.
Picture Lights
Designed specifically for illuminating artwork or photographs on walls, picture lights are usually adjustable to focus light on the artwork without causing glare.
Swing Arm Wall Lamps
These lamps have an extendable arm that can be swung and adjusted, making them versatile for reading or task lighting. They can be moved closer to or farther from the wall as needed.
Flush-Mount Wall Lights
These lights are installed directly onto the wall surface, offering a sleek and low-profile appearance. They are ideal for areas with limited space.
Spotlights
While typically associated with ceilings, spotlights can also be mounted on walls to provide adjustable and directional lighting. They are often used for highlighting artwork or specific architectural features.
Candle Wall Sconces
Designed to resemble traditional candle holders, these fixtures add a touch of elegance and warmth to a space. They may use actual candles or electric bulbs to mimic the effect.
LED Wall Lights
With the advancement of LED technology, many wall lights now utilize LED bulbs. LED wall lights are energy-efficient, long-lasting, and come in various designs, ranging from contemporary to traditional.
Art Deco Wall Lights
Inspired by the Art Deco movement, these lights often feature geometric patterns, sleek lines, and luxurious materials. They add a touch of glamour and sophistication to a space.
Industrial Wall Lights
Characterized by a rugged and utilitarian aesthetic, industrial wall lights often feature metal finishes, exposed bulbs, and a no-frills design. They are popular in modern and industrial-themed interiors.
Here are some recommendations to guide you in selecting wall lights:
Consider the Purpose
Identify the primary purpose of the wall lights in each room. Are they for ambient lighting, task lighting, or accent lighting? The function will guide the type and placement of the fixtures.
Coordinate with Overall Design
Ensure that the wall lights complement the overall design and style of your home. Whether your style is modern, traditional, eclectic, or minimalist, choose fixtures that harmonize with the existing decor.
Size and Scale
Pay attention to the size of the wall lights in relation to the size of the room and other furnishings. Overly large or small fixtures can disrupt the visual balance of a space.
Room-specific Considerations
Different rooms have different lighting needs. For example, in the living room, you might want a combination of ambient lighting and accent lighting for artwork, while in the bedroom, you might prioritize softer, more intimate lighting.
Color Temperature
Consider the color temperature of the light. Warmer tones (around 2700K) are cozier and more suitable for living spaces, while cooler tones (around 3000K-4000K) are often preferred for task lighting in areas like the kitchen.
Dimming Capability
Opt for wall lights that are compatible with dimmer switches. This allows you to adjust the light levels according to different activities and moods.
Energy Efficiency
If sustainability is a priority, consider choosing LED wall lights. LED bulbs are energy-efficient, have a longer lifespan, and come in various color temperatures and designs.
Installation Height
Pay attention to the recommended installation height for the specific type of wall light you choose. The ideal height can vary depending on the purpose of the lighting and the room.
Budget
Establish a budget for your lighting project. There is a wide range of wall lights available at different price points, so having a budget in mind can help narrow down your options.